What is the country code for Ireland
Ireland
The Country Code for Ireland: IE
according to ISO-3166
What does the flag of Ireland look like?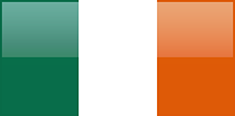 The TLD (Internet ending) of Ireland: .ie (e.g. www.domain.ie)
The country code for Ireland is 00353
Brief introduction to Ireland:
Ireland is an island nation in the Atlantic Ocean and borders the United Kingdom. Ireland has been a member of the European Union since 1973. The capital of the 4.6 million inhabitants is Dublin with approx. 530,000 inhabitants. Almost 90% of the population is Roman Catholic (in contrast to Northern Ireland, which is largely Protestant and still belongs to the United Kingdom of Great Britain and Northern Ireland). Ireland has a parliamentary democracy as a form of government with a prime minister as head of government. Ireland was an economically underdeveloped country until the 1990s. Until then, Ireland was affected by immigration. Only the investment in industry and tourism allowed the country to join the European Union. The share of foreign companies was not insignificant and rose to a quarter of Irish value added. However, Ireland was hit hard by the 2007 financial crisis. The cultural activities take place in the centers of Dublin, Cork, Limerick and Galway. Outside of these cities, life is rural and dominated by agriculture and fishing. Irish Folk is a traditional Irish folk music, shaped by the "fiddle" (violin), which enjoys a certain popularity worldwide. Irish literature has produced some world famous writers: William Butler Yeats, George Bernard Shaw, Oscar Wilde, James Joyce, Seamus Heaney.