Dying care: How animals make it easier to die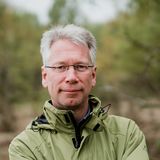 by Peter Carstens
Animals can be housemates, friends and companions. And they can help to say goodbye to life. But so far, animals - especially dogs and cats - have only seldom been used to care for the dying
The word "hospice" triggers fears in many people: Here no plans are made, here - after a diagnosis of cancer, for example - people only die. It's a place to say goodbye.
This is a little different in five facilities in Hessen. Because this is where Emma and Sissi wait for new guests on their visiting days, wagging their tails. The two Labrador ladies are on the road as therapy companion dogs with their mistress Ivana Seger. Even the arrival of new guests at the hospice is unusual. "The same thing almost always happens. People stop for a moment, some even turn around, apparently to check whether they are really in the hospice. And instead of going to the registration, they always go to Emma and Sissi first ", explains the trained geriatric nurse.
A moment in which newcomers immediately forget what they are here for. "This is something that, even as an empathetic nurse, I cannot achieve anything," says Ivana Seger. "But my dogs, or animals in general, they can do it. They take the weight off people." If you meet dogs, Seger says, you no longer talk about your illness or the future. But about dogs. However, some people only begin to speak when they come into contact with animals: for example, about animals that have accompanied them on their way through life. About their fears and worries.
Help for the dying and their relatives
Ivana Seger has been working with her two Labrador bitches in the care of terminally ill people for ten years. And with her animals she not only helps people on their last journey - but also their relatives, who are often overwhelmed and helpless. This makes her one of the few professional dog handlers who offer her services in hospices.
The sociologist Michaela Thönnes from the University of Zurich estimates that barely ten percent of such animal encounters are made possible by professional animal visiting services. On the other hand, animals that are brought from home by relatives, animals from voluntary visiting services or four-legged friends that employees bring to work are far more frequent.
"So far, it has only been possible to actively involve animals in palliative medicine, in hospices, old people's homes or in home care," says Michaela Thönnes, the initiator of a survey of more than 650 homes, care facilities and hospices in Germany, Austria and Switzerland. Of the 288 facilities that responded, just under a quarter stated that they actively use animals in end-of-life care.
Animals in dying care have so far been the exception
The trained nurse is surprised. Despite concerns about safety and hygiene, the advantages of dogs, cats and co. Predominate. "Animals are palliative resources in the dying process," says Michaela Thönnes: "They complement the care activities of the medical staff and those of relatives and staff cannot always meet the dying needs for closeness, familiarity and everyday habits. "And they alleviate pain through their presence. Medicines can be dosed more sparingly.
It doesn't necessarily have to be specially trained and certified therapy companion dogs like Emma and Sissi. Cats are named second in Michaela Thönnes' survey. But rabbits, birds or aquarium fish can also have a calming effect - just like encounters with horses, cattle, pigs or even chickens.
"Papa, there are two dogs in front of your door"
With her dogs, Ivana Seger achieves one thing above all: a pleasant distraction. And Emma takes care of that with what Ivana Seger calls the "Emma effect": "When it is a visiting day, guests who otherwise don't want to get up receive us sitting on the edge of the bed." And also in the communication between the dying and the animals bring movement to their relatives. Ivana Seger often hears sentences like this: "Dad, did you see there are two dogs in front of your door. Do you want them to come in? "
And Michaela Thönnes sums up: "Animals often bring calm to the dying situation, they are a reliable barometer in the last hours and days. They often feel death sooner than we see it, they are silent listeners to whom the dying usually confide more intensely than a person. They are careful and gentle in their touch, and with their closeness and tenderness they can alleviate symptoms of stress and reduce the use of drugs. "
Better than any sedative
Animals also help at the very end. Many dying, says Ivana Seger, are gripped by what is known as prefinal unrest shortly before death occurs. Although the body is already extremely weak, people rear up again, moan loudly. And no anesthetic will help calm them down. Then Ivana Seger offers the relatives to put Emma in bed with the dying person. "Many of them don't want that at first," says Seger, "but consent when their helplessness becomes unbearable. I put the dying man's hand on Emma's fur, and then the same thing happens every time: people sigh and begin to breathe evenly. "
How does Emma do it? "I would give anything if someone could tell me," says Ivana Seger with a laugh. And then dares to try an explanation: "It's probably the warmth, the soft fur - and above all the unspeakable calm that it radiates. People have already asked me if this is a real dog. "
More popular dog topics on GEO.de.
#Subjects