How can you remove broken internal links?
Use these 7 tools to find broken links
Broken Links Tools are like sniffing dogs that sniff their way through your website to find broken links. The best known is the 404 error message that appears when a page under the link mentioned is no longer available. It goes without saying that the user experience suffers. Increasing bounce rates and a reduced length of stay are the result. We introduce you to seven broken links checkers.
Broken links are not only annoying for your website visitors. If they occur more often on a website, they are also a reason for Google to penalize a website with a poorer ranking. Because the Google Bot is interrupted in its crawling routine by dead links. Since the crawl budget (the pages that Google crawls per website visit) is limited, this leads to poor indexing of your website, as 404s cannot be indexed.
This is how broken links are created
Broken or dead links can occur when you edit your website and change page configurations. This happens quickly, especially with a relaunch. Even a small twist of the letter on a social media link or when forwarding to a detail page can result in a broken link. The greatest danger of dead links lurks with a domain move: If there is no 301 redirect from the old website URL to the new one, there will be numerous broken links because the affected page is no longer in its original location on the server . The simplest cause of broken pages is that you delete an obsolete page without even thinking about deleting the links to that page.
7 great broken links checkers
Fortunately, there are plenty of tools out there to help you find dead links quickly. We introduce you to seven.
1. Dead Link Checker
Dead Link Checker systematically scans your website and detects any dead links. The tool creates a practical overview of the source and target pages of dead links. Dead Link Checker detects various broken links such as "Page not found", "Timeout" or "Server error".
Features:
Dead Link Checker has three checking modes: Site Check, Multi Check and Auto Check.
The tool filters the URL keyword with placeholders.
You can pause and resume the test mode at any time.
Multiple links are scanned at the same time.
Disadvantage:
Scanning is limited to a depth of 10 links.
Links in the subdomains are considered a new website and are therefore not checked.
To the Dead Link Checker tool
2. Sitechecker
The Sitechecker website crawler checks your website for broken links and provides all the information to correct them. You can browse the anchors of 404 error pages and fix them immediately. The web tool works for every operating system and CMS.
Features:
The tool scans 100 websites for free.
It creates a comprehensive report on the technical condition of the website for broken links, redirects, links for rare websites, indexing errors.
It offers an SEO audit of the individual page (free option) and the entire website (monthly / annual subscription).
It shows content errors: for example, problems with meta tags and pages with too little content.
It creates a visual structure of the internal and external links.
It implements website monitoring after crawling: you can be notified of corrections on the website (paid option).
Backlink tracker and keyword ranking checker services are suggested (paid option).
Disadvantage:
You can only scan 100 pages for free.
You cannot export data from a free subscription.
To the Sitechecker tool
3. WP Broken Link Status Checker
WP Broken Link Status Checker is a broken link checking WordPress tool that authenticates the HTTP status codes of all of your content links and images. Your content will be crawled and checked for broken links, redirects, untraceable links, etc.
Features:
The crawler runs in the background without opening WordPress.
The WP tool has the latest filters and search functions for URLs or anchor scripts.
It supports the editing of the content directly from the crawler reports.
Disadvantage:
The tool doesn't check the entire HTML page, it just extracts the links and images.
You need to disable the firewall before you can use this plugin.
You need to disable the WP Secure plugin to run a full scan.
To the WP Plugin for Broken Link Check tool
4. Online Broken Link Checker
Online Broken Link Checker is a free online tool that you can use to check your web pages for broken links. You can scan an unlimited number of web pages. Online Broken Link Checker works for both external and internal links. The tool can be run on Windows, iOS, Linux, and Mac OS.
Features:
The tool searches an unlimited number of pages for external and internal URLs.
It shows the position of a broken link in the HTML code in a simple and clear manner.
Link reds and other website integrity issues are detected.
It supports subdomains.
Disadvantage:
After 3,000 scanned pages, the free version ends.
To the Online Broken Link Checker tool
5. W3C Link Checker
With the W3C Link Checker you have the choice to only display the summary, hide redirects or check documents. The results show the status of the link and list the problems that were discovered while checking the broken links. This free bad link checker is part of the W3C Quality Web Tool and Validator.
Features:
W3C Link Checker checks links, anchors, and referenced parts across the website.
You can limit the depth of the tool.
You can download the W3C Link Checker and install it on your system.
The tool uses HTML and CSS to get the best scan results.
Disadvantage:
The tool is a little slow.
Error messages are more comprehensive than desired.
To the W3C Link Checker tool
6. Google Search Console
The Google Search Console is a freely available tool that checks your website's performance in search results. It ensures that Google can access the content of your website. The Google Search Console allows you to create new pages and posts for Google to crawl and remove content that you don't want search engine bots to find.
Features:
The Google Search Console helps you optimize your website through SEO.
Access to information to optimize your advertising campaigns
It improves your linking through campaigns based on the systematic data about the external and internal links to your website.
Disadvantage:
Data update anomalies
You can only send one request to Google to remove links from Google.
To the Google Search Console
 7. Screaming Frog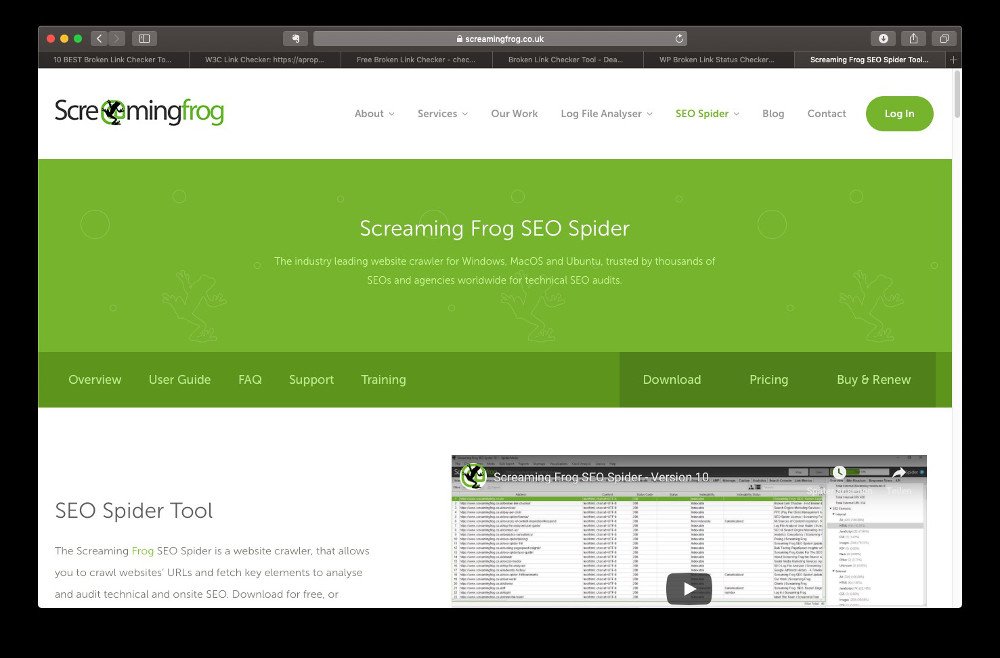 Screaming Frog SEO Spider helps crawl and rate your website quickly. The tool crawls small and large websites and analyzes them in real time. You can see, examine and filter the crawl data in real-time.
With SEO Spider you can transfer elements such as URL, page title, meta description, captions etc. to Excel in order to use the data for SEO reports.
Features:
Examines backlinks, internal and external links to improve the performance of your website.
Custom searches are available to examine a specific selection of text.
XML sitemaps are generated.
txt support for checking and displaying the full performance of the page
Disadvantage:
The tool is a little slow on very large websites.
Numerous functions are not available in the free version.
The free version only scans 500 URLs.
To the Sceaming Frog SEO Spider
Conclusion
Broken links are not one hundred percent avoidable. This is not meant to be an excuse, because you should get rid of dead links as soon as possible. This ensures an undisturbed surfing experience for your site visitors and at the same time makes your website more palatable to the Google crawlers.
To do this, use one of the tools we have presented! They are all recommended, and depending on your needs, they are also affordable in the paid versions.
Pro tip: Check your website for broken links at least once a month and it is best not to touch the link structure when relaunching your website!
Swell:
Photo credits: Image by Gerd Altmann on Pixabay
More articles on the topic:
Jana Behr is an IT specialist editor, PR consultant and blogger from Cologne and is passionate about everything to do with IT, telecommunications and digitization.